A catchy cartoon presentation holds the attention of the viewer with engaging visuals in a fun way.
It's a fact regarding a cartoon presentation: people love stories, and whilst the written word is very engaging, sometimes it does not get the real message across.
As much as you love and nurture your product, how do you pass that information on to your potential customers without making them go to sleep?
Catchy Cartoons
can go a long way to improving your online presence by providing a fun and concise evaluation of your business offering. Incorporating a Catchy Cartoon into your website is an excellent way to briefly describe the benefits of your product. If you are an e-commerce company with a product to sell it really is a must. However as our portfolio shows Catchy Cartoon's work for almost any type of business.
Why Your Business Needs a Catchy Cartoon Presentation

Techno Snowball can now animate your Catchy Cartoon presentation. This means that we can put movement into the characters and images that our cartoonists draw. This is a great addition to your Catchy Cartoon. Please get in touch for more details.
Chat To Us About A Catchy Cartoon Presentation
Our prices are very reasonable too for a full 60 second
Catchy Cartoon
. This includes script writing, voice-over, and animation. There is an option for a storyboard prior to production if required (there is an additional charge for this). As a "Technologies of the future" Company we also have other options for your Catchy Cartoon such as integrating additional character animation.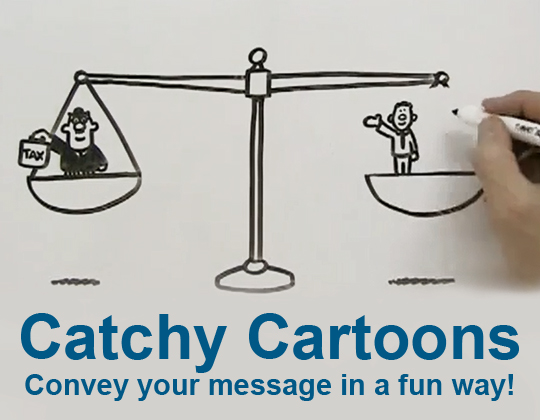 Leeds City College - New Campus
Referral Scheme
We also have a referral scheme available which means you can get your
Catchy Cartoon
for FREE! Please
call:
0113 305 3944 or
email:
letitsnow@technosnowball.co.uk
to find out more.