Increase Brand Awareness and Product Sales by up to 181%
Benefits of 3D Displays Without Glasses for Businesses
Techno Snowball
is pleased to bring
Glasses-Free 3D Displays
to businesses for impact at corporate events with the very best in event technology. Ideal for creating engagement at trade shows, exhibitions, seminars, POS, shop fronts.
Top 3 Business Benefits
Advantages for showcasing products: Point Of Sale, Exhibitions, 3D Walls To Grab passers by attention.
Impact when advertising a new product launch at trade shows: Your product stands out, People remember how the 3D effect presented the product as it is exciting, offers more impact than a 2D billboard.
Dramatically Boosts Customer Engagement: Visuals are more likely to hold the attention of a customer and why video like Catchy Cartoons helps promote a product. A 3D TV presents products in an eye-catching and exciting way.
How 3D TV Event Technology works?
The TV wears the glasses, so you don't have to. By using this technology along with a combination of 2D background content and animation techniques we can make any product or graphic appear to be flying out of the screen. A hand can be even placed in front of the screen and that product will appear as if it is in your palm. Seeing really is believing.

The focus of Techno Snowball targets 3D technology for businesses and offer real impact at trade shows so we are proud to offer other services, please review our menu options above.
How Can 3D TV Promote My Business?
From 22 inch point of sale screens and kiosks to 55inch screens and video walls, a business can showcase their products and capture the attention of an audience.
At an
exhibition
, your products would stand out against others with a wide 3D TV presenting your latest brand offerings.
3D TVs
allow you to grab the attention of a wide audience and in so doing, appeal to your target audience.
For example
: a jewellery store wants to show its latest wares as customers enter the store, a supermarket wants a new discount to be seen by customers on entering the shop, or a new brand needs to highlight its new products at an event where competition is likely, Games companies can tailor productions to create 3D gaming titles.
We are a leading supplier of
autosterioscopic (glasses free) 3D solutions
and a trusted supplier of displays, software and network management. We can provide market ready solutions for POS, DOOH, Event and Experiential Marketing. Our experienced team uses
Glasses-Free 3D Displays
as the focal point when designing custom retail and event environments that create unparalleled customer engagement.
Touch Screen & Hand Gesture Controls
Techno Snowball
can also provide customised kiosks with Glasses-Free 3D Touch Screens to create interactivity with products. Including Glasses-Free 3D Screens which are combined with hand gesture controls to create the ultimate in interactive entertainment.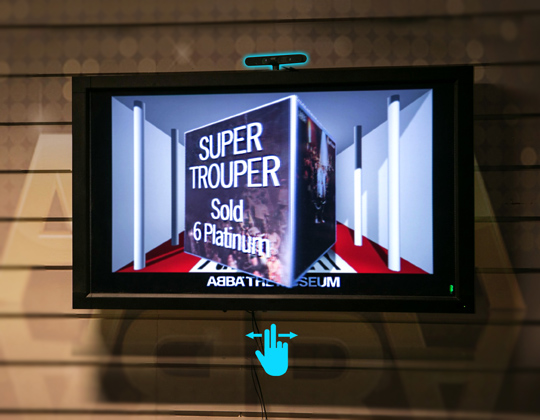 Retail Point of Sale Case Study: Southern Comfort
A retail campaign for Southern Comfort at Ralph's (a major supermarket chain in California), yielded a 181% increase in sales over the same time period of the prior year. The Southern Comfort Campaign also ran for 3 months in the greater Chicago area. Over 70% of the shoppers in these retail environments elongated their shopping experience because of our glasses free 3D display. 61% watched for over 15 seconds, 19% watched for over 30 seconds and 20% watched for over 60 seconds. Independent media evaluation done by Precision Research Company.
Please contact
David Frazier
of
Techno Snowball
for a demonstration and to learn more about our products and services.
t:
+44 (0) 113 3053944
e:
david@technosnowball.co.uk
3D Video Wall (No Glasses) Installation
Please see the below MP4 demonstrating our recent 3D Video Wall Installation for The Reitan Group in Norway.
This installation is a permanent fixture in the lobby of their Headquarters in Oslo and is the first Glasses-Free.
2D Representation of 3D Content